Providing assistance to families
of innocent victims of homicide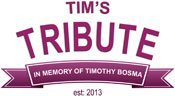 Tim's Tribute is a registered charity based in the Hamilton-Wentworth area, created by Sharlene Bosma in memory of her husband Tim, who was murdered May 6, 2013. The gaps within the system to support families of homicide became so obvious, Sharlene felt compelled to help others who end up suffering the same horrific loss.
Sharlene has been joined by friends and family of Tim, as well as by family members who have also suffered the loss of someone they love to homicide. Tim's Tribute is dedicated to providing financial assistance for immediate needs and trial needs.
Immediate Needs may address, but not limited to, the needs of the family, such as providing grocery gift cards.  Trial Needs are those that arise from the families' attendance during the trial, long after others have moved on with their lives and have forgotten about these families. Trial Needs could be, but not limited to, transportation costs if the trial venue is out of town, parking costs, child care, or lunch expenses.
Tim's Tribute continues to work with the Victim's Services departments and the Victim Witness Assistance Programs in identifying those in need. The application form is also available on our website here.
Tim's Tribute is also the host organization for The Healing Tree, a twelve-week homicide grief support program for family members and friends of victims of homicide. More information on "The Healing Tree" is available here.
"Do not be overcome by evil, but overcome evil with good."
Romans 12:21